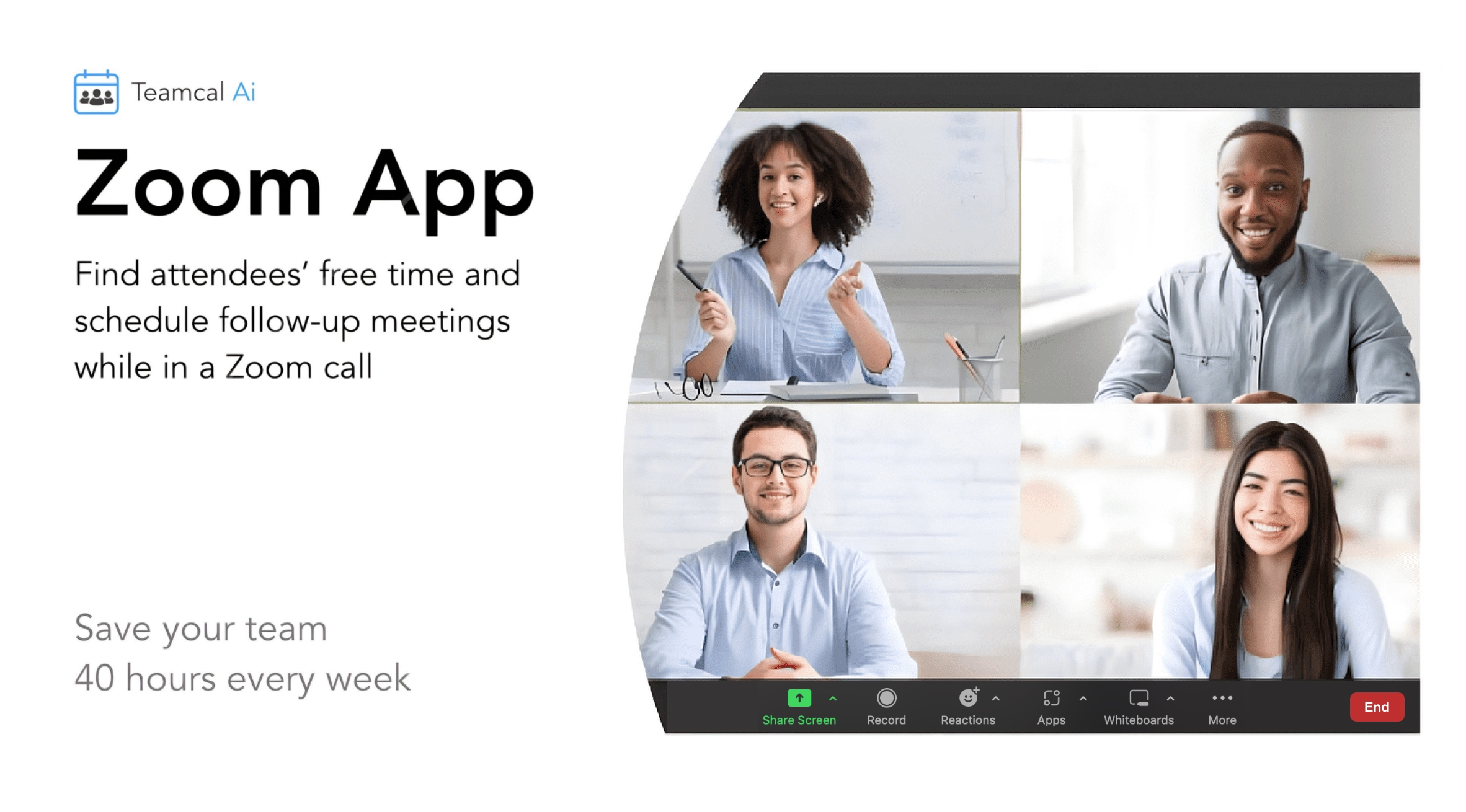 Teamcal Ai Zoom App - Your Super Power

The Teamcal Ai Zoom App enables you to quickly schedule meetings while in a Zoom call. It's a free add-on to your Teamcal Ai account. Once installed from the Zoom Marketplace, the Zoom App automatically logs in to your Teamcal Ai account and shows you your upcoming meetings of the day. You can quickly select a meeting and see when your meeting attendees are available in the coming week.

Find attendees' free time and schedule follow-up meetings while in a Zoom call. Scheduling a follow-up meeting is a breeze. No more going back to your Calendar or going back-n-forth with meeting attendees to find a convenient time for a meeting.

Note that in order to schedule meetings through Teamcal Ai, both Teamcal Ai and the Teamcal Ai Zoom App require read/edit access to your calendar.


Zoom is where everyone meets. Teamcal Ai is where everyone's calendar meet. Teamcal Ai brings available time for everyone to Zoom, so you can schedule lightning-fast meetings while you are on a Zoom call.
Schedule Follow-up Meetings!
How many times do you have to go back-n-forth from Zoom to Calendar, to find the time of all the meeting attendees and schedule a follow-up meeting? With Teamcal Ai you can easily view your meetings in the sidebar while on a zoom call and schedule a follow-up then and there. No need to go through the cumbersome process of opening the Calendar, adding attendees, finding a time, and adding meeting subjects and details. With Teamcal Ai, one click and you are done.
Schedule Meetings with your Teams.
If you are part of a Team at Teamcal Ai, you can easily access your Team's availability for Meetings from the App and schedule meetings in a few clicks. If you have a Pro or Business account at Teamcal Ai, you can create a team, for cross-functional teams inside the company, as well as Team with Externals, for teams with members outside the company.
Schedule a Meeting with Externals.
With Teamcal Ai you can also schedule meetings with people outside your calendar right in Zoom. Just invite your partner for a free account of Teamcal Ai using the add button "+" at the bottom of the Team Calendar page. Once they sign up for Teamcal Ai, you both can see the available time for each other and schedule meetings seamlessly.
Block a Time in Your Calendar.
You can also find your own available time and block a "new meeting" for yourself quickly while on a call. This helps you to block time for action for your current meeting.
Zoom members can use Teamcal Ai for FREE. If you want a Team account signup at Teamcal Ai. The plan starts at $20/month/user.
Zoom documentation
Check out our Zoom documentation page to learn more about how to install, use and remove the Teamcal Ai App from Zoom. Zoom Documentation